I understand that you and your family are busy this time of year with a lot of demands on your time and work/life responsibilities to balance, so I'll keep this update as brief as possible and easy for you to scroll through. The spring legislative session of the Illinois House of Representatives adjourned on Saturday at 6:12 AM after a disappointing vote to pass the new state budget on a partisan basis and a lack of transparency.
You can always refer to our website, repkeicher.com, for more detailed information on some of the updates referenced in this newsletter or visit ilga.gov to look up the specific language or bill information. If you look up my profile under "Members" you can see the bills I filed, those that passed and those that did not.
I have provided a recap of legislative activity from the end of session below. I hope you find this update to be informative and relevant to your family's needs and concerns. As always, please feel welcome to reach out to my district office in Sycamore by phone or e-mail at any time with questions or feedback.
-Jeff
FY23 STATE BUDGET FULL OF ELECTION-YEAR GIMMICKS
In the early morning hours of Saturday, April 9, after being in session for 18 hours and literally all through the night, the Illinois House of Representatives passed the FY23 state budget on a partisan roll call and voted to approve temporary tax relief including a six-month suspension of the inflation-adjusted state motor fuel tax and grocery sales tax in addition to a one-time property tax rebate and expansion of the earned income tax credit.
Illinois Democrats passed a bloated and unsustainable budget while most of you were sleeping. The 3,400+ page budget amendment dropped at midnight. The budget was put up for a vote at 5:30am and passed. Make no mistake, they do this in the middle of the night to avoid public scrutiny. This is not how a democracy should function. The people of Illinois deserve better. This budget is largely built on the federal bailout dollars that won't be there next year. I voted NO.
Regarding the tax relief measures you'll be hearing about: Illinois families need meaningful, long-term tax relief, not an election year gimmick offered by Democrats scared of facing voters in November because of their record of reckless spending and taxing families and jobs out of this state. At the end of the day, minimal, temporary tax relief is better than no tax relief at all. I voted yes given this was the only option available to us. Once again Democrats have shortchanged Illinois families by offering crumbs at a time when working moms and dads are struggling because of inflation and Illinois' high tax burden.
KEICHER JOINS LAPOINTE TO PASS PLAN TO PROTECT RESTAURANTS FROM BAD-FAITH DELIVERY SERVICES
Third-party delivery services would no longer be able to post restaurant menus or offer delivery services without clear approval from the restaurant under legislation passed April 8, House Bill 3205. I am Chief Co-Sponsor of the plan, known as the Fair Food and Retail Delivery Act. My colleague State Rep. Lindsey LaPointe of Chicago was the bill's lead sponsor.
House Bill 3205 would prohibit third-party delivery services – such as Grubhub, DoorDash and Uber Eats – from using or purchasing the name, likeness, registered trademark or intellectual property belonging to a merchant without obtaining written consent. They also would not be allowed to provide delivery or pick-up services without approval. Under House Bill 3205, affected restaurants would be able to bring a claim to court and recover damages. We saw most of the problems addressed in this bill impacting smaller mom and pop restaurant operations, folks that have spent their entire lives creating a place that defines many of our communities.
Restaurants have a right to choose whether or not to participate in third party delivery services. Right now, some of these services are operating in bad faith and selling food from eateries that do not want to participate. For a business like a restaurant, where quality and reputation matter, this is potentially hurting their relationships with customers and they don't even realize it. The reality of today's economy is that restaurants and bars rely on third-party delivery services to meet the demands of their customers. Our bill protects their intellectual property by putting accountability into state law where it should be. House Bill 3205 now heads to the governor for approval.
BILL PASSED TO PROTECT NURSING HOME VISITATION RIGHTS DURING PUBLIC HEALTH EMERGENCIES
On April 4 the Illinois House of Representatives passed legislation to ensure no one has to die alone, even in a pandemic. Senate Bill 1405 ensures a family member may be by the side of their loved one in their final moments while in a healthcare facility. I was proud to be a co-sponsor of this bill.
No one should have to die without a family member by their side. No one should have to learn their spouse or parent is suffering rapid decline but be denied the opportunity to give them love and compassion in their final moments. Unfortunately, many were denied this opportunity.
Due to the Governor's executive orders in response to COVID-19, no exceptions existed to allow for end-of-life visitation with a family member in a healthcare facility. Even as mitigation rules were changed in response to the pandemic, residents in skilled nursing homes, extended care, or intermediate care facilities were denied even one visitor.
Under Senate Bill 1405, at least one visitor, not including a member of the clergy, must be permitted to visit a loved one. Healthcare facilities are empowered to set safety guidelines and ensure that neither the patient nor visitor are endangered by the visit, but no longer could they be outright denied due to an executive order. This legislation recognizes the dignity of every life and ensures no one else will be forced to face death alone. Let's hope the Governor signs it into law!
LOCAL GOVERNMENT EFFICIENCY/TAXPAYER ACCOUNTABILITY BILL WINS FINAL APPROVAL
A legislative proposal I initially introduced and sponsored has passed the Illinois House of Representatives to require local taxing bodies to review and report on their efficiency every ten years and consider whether consolidating operations with another unit of government would achieve greater accountability and cost savings to taxpayers.
I am Chief Co-Sponsor on this year's version of the legislation, Senate Bill 3789, which will now be sent to the Governor to be signed into law. My proposal was originally filed as House Bill 4691 in February 2020. This year, this legislation, under House Bill 162 passed the House unanimously, but it was taken by State Sen. Julie Morrison of Lake Forest, who reintroduced it as Senate Bill 3789. The bill passed the State Senate on February 24 before advancing to the House of Representatives, where it passed on March 31. Municipalities and counties are the only units of local government exempted from the provisions of the bill. I was initially frustrated that my original legislation was hijacked by a Senator under her name but recognize credit here isn't important, passing the bill is what's important.
Too often Illinois taxpayers have been beaten up by the number of local units of government that are able to levy residential property taxes. What this bill does is to make sure that we right-size local government units at the property tax level so that every ten years we put it in the hands of the taxpayers to decide whether or not they want to be taxed for that function of government. This is the best piece of good government legislation we will see come out of Springfield this year.
In some places lighting districts or other special assessments are helping minimize property taxation to a smaller area where it's needed. Who are we to decide what all Illinois local government should look like – leave it to the taxpayer.
Since I was elected to office, I've heard the top complaint is property taxes. This bill allows local decisions on what units of government are important.
ILLINOIS HOUSE APPROVES BILL TO EXTEND TREATMENT SERVICES TO SURVIVORS OF SEXUAL ASSAULT
April is Sexual Assault Awareness Month. We all play a role in preventing sexual violence and establishing norms of respect, safety, equality, and helping others. The Illinois House of Representatives voted unanimously on March 29 to approve legislation to ensure that survivors of sexual assault receive the appropriate treatment and forensic services by qualified providers trained on responding to sexual assault survivors, Senate Bill 3023, I was a co-sponsor of this bill.
Specifically, the legislation requires a federally qualified health center (FQHC) to employ both a qualified Sexual Assault Nurse Examiner Coordinator and a Medical Director to provide medical forensic services for sexual assault survivors over the age of 13. FQHC's who are approved to offer medical forensic services for sexual assault survivors over the age of 13 would be required to follow guidelines outlined by the Illinois Department of Public Health (IDPH).
Every FQHC with a treatment plan approved by the state would be required to employ or contract with a qualified medical provider to initiate medical forensic services to a sexual assault survivor within 90 minutes of the patient's arrival. The provision of medical forensic services by a qualified medical provider cannot delay the provision of life-saving medical care.
To further protect the privacy of victims, the bill provides that a sexual assault survivor who is not the subscriber or primary policyholder of their insurance policy may opt out of billing their private insurance provider. If the sexual assault survivor opts out of billing their private insurance provider, then the bill for medical forensic services shall be sent to the Illinois Department of Healthcare and Family Services' Sexual Assault Emergency Treatment Program for reimbursement for the services.
Victims of sexual assault experience physical and emotional trauma that is beyond words. By passing this bill into law, we will ensure that survivors receive timely access to the medical forensic care they need as well as the option to protect their privacy when it comes to billing.
HOUSE REPUBLICANS CALL FOR AUDIT OF DCFS AMID GOV. PRITZKER'S REFUSAL TO ACCEPT ACCOUNABILITY FOR CHILD DEATHS, CONTEMPT OF COURT ORDERS
Since January, five children who had contact with DCFS have died and the director has been held in contempt eight times for failing to place youth in care appropriately. Governor Pritzker has refused to take action or accountability for this crisis so we are calling for an audit of the agency. We will not stand by while more children suffer because of the administration's dysfunction. We need action now.
My colleague Rep. Tom Weber of Lake Villa has filed House Resolution 824 to direct the Illinois Auditor General to conduct a performance audit of the Department of Children and Family Services' response to the tragic deaths of any and all children who have died as a result of the agency's failure to live up to its own mission statement as well as the Department's actions to identify appropriate placement options and avoid further contempt citations.
The Illinois legislature needs to step up our oversight and an independent performance audit is needed because we cannot rely on the documents and words of agency administrators defending its own actions better than the children in its care. The children who have been failed by DCFS need us fighting for them and when you go out there and see their display, you'll see and understand who we are fighting for.
HOUSE REPUBLICANS SECURE KEY OPT-OUT PROVISION FOR PARENTS IN NEW EDUCATION MANDATE
On April 7, the House voted to give final approval to legislation that requires school district with students in grades 6 through 12 to adopt and implement a postsecondary and career expectations framework. Under this plan, each student will receive what's called a "career readiness endorsement" on his or her high school diploma. The legislation is House Bill 3296.
Like my colleagues in the House Republican caucus, I expressed concern about this bill being yet another unfunded mandate on our local schools that unfairly lumps all out students into a one-size-fits-all approach to their future. Under the bill, each student will be required to have an individualized plan, which includes college planning linked to early understanding of career goals, financial aid, resume, and a personal statement. This is fine for many, but fails to recognize that not all students wish or plan to attend college – and that's OK!
Since I became a state representative, I have been a vocal advocate for apprenticeships and vocational training programs that offer our youth a variety of pathways for their future that do not require a college degree. These pathways should be supported and encouraged. That's why I am pleased to report that thanks to the effort of House Republicans, parents will be given the choice to opt their child out of the new career readiness endorsement program. The State should never pigeonhole our students down one pathway; and parents should always have a say in these decisions.
KEICHER CRITICIZES PASSAGE OF LEGISLATION GIVING STATE TREASURER NEW OUTLETS TO ELECTIONEER
You know it is an election year when Illinois Democrats pass legislation aimed at boosting the political standing of an embattled member of their party, State Treasurer Mike Frerichs, who has publicly floated the idea of taxing retirement income in Illinois. A policy which would be devastating to senior citizens and their families.
To set the table to repair Frerichs' damaged political brand, Democrats passed House Bill 2237 during the last General Assembly whichcreated an entirely new state program, the Illinois Higher Education Savings Program, to be administered by the State Treasurer. This program automatically opens a 529 college savings account for every child born in Illinois beginning in 2021, and an initial deposit to the account will be made in the amount of $50. This amount may be increased by the Treasurer by rule.
On April 1 of this year, Democrats passed Senate Bill 3991 to expand the authority of the Treasurer to allocate supplemental funding to the Illinois Higher Education Savings Program at his sole discretion, without proper accountability or oversight. The new law will also allow the Treasurer to document the racial, ethnic, socioeconomic, and geographic data of beneficiaries and of children in financially insecure households who may receive automatic bonus deposits; again at the Treasurer's sole discretion.
Democrats did not stop there to help Mike Frerichs during this session, passing legislation expanding the Treasurer's ability to self-promote and use his power over the Achieving a Better Life Experience (ABLE) Program, which provides tax-advantaged savings and investment plans to assist persons with disabilities without putting federal means-tested benefits at risk. Illinois residents have opened more than 2,900 ABLE accounts statewide, possessing more than $29 million in assets, and has a current average account value of $9,900.
On March 31, Democrats passed Senate Bill 3786 expanding the State Treasurer's power by allowing him to require any certifications that he deems necessary to implement the ABLE program. They also passed Senate Bill 3474 which requires that marketing materials provided by the State Treasurer's Office be included in teacher-parent meeting. Specifically, every school district will be required to provide informational material about the ABLE program to the parent or guardian of a student at the student's annual individualized education program (IEP) review meeting. This is a superfluous mandate designed merely to allow the Treasurer to get marketing materials with his name and photo on them in front of parents at every IEP meeting, even though hardly any IEP will qualify for an ABLE account.
I voted NO on this irresponsible, politically-motivated legislation to benefit Mike Frerichs over the best interests of the students, families and taxpayers of Illinois.
LOOKING FOR A JOB? KEICHER-DEMMER JOBS FAIR TO BE HELD IN SYCAMORE ON MAY 4
Are you or someone you know looking for a job or interested in pursuing a new career path? You are invited to attend a FREE JOBS FAIR I am hosting with State Rep. Tom Demmer to be held from 9am – Noon on Wednesday, May 4 at the Kishwaukee Family YMCA, located at 2500 W. Bethany Road in Sycamore. Our Jobs Fair includes over 40 local and regional employers looking to hire right now!
For a complete list of participating employers who will be in attendance looking for job seekers to fill open positions available right now, please click HERE.
REP. KEICHER TOURS DOWNSTATE YOUTH PROGRAM
I had the honor of touring the Lincoln ChallNGE Program last week for Illinois youth that need a structured environment to help them overcome their surroundings. This program is partially funded by federal dollars and the Illinois National Guard. It is a great resource with a proven track record! To learn more about the program, please visit www.lincolnschallenge.org/faq/.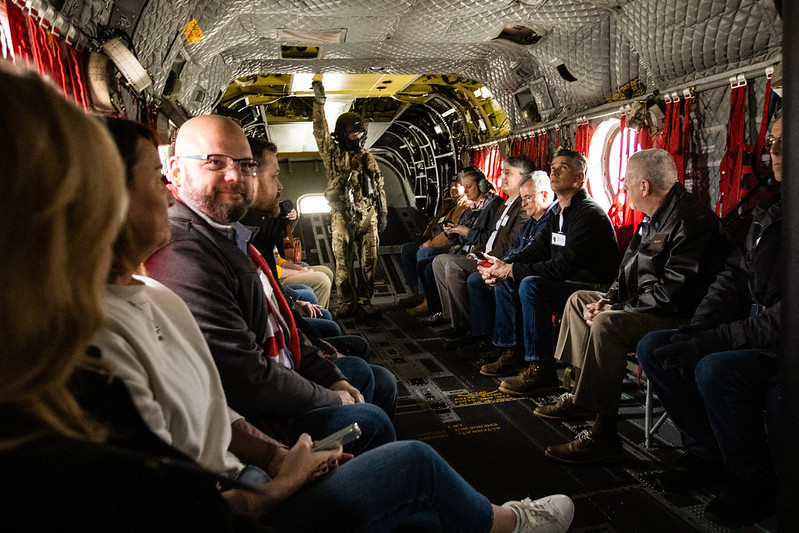 REP. KEICHER, SEN. SYVERSON OFFER FREE DOCUMENT SHREDDING EVENT IN HAMPSHIRE – APRIL 23
I am co-hosting a FREE Community Shred Event in Hampshire with Senator Dave Syverson on April 23 to give area residents an opportunity to securely dispose of up to three boxes of personal documents. No electronics, please.
Stop by any time from 9:00 am – 12:00pm on Saturday, April 23 in the parking lot of our District Office located in the Hampshire Commons Strip Mall, located at 115 W. Oak Knoll Dr. (Route 72) in Hampshire!
Clean out your file cabinets and help the environment by bringing your old documents and papers to this event for safe and confidential shredding! Questions? Call Melissa Leuzinger from Sen. Syverson's office at 815-978-6125.
Sen. Syverson and I will also be hosting several local "Coffee and Conversation" events in late April and early May in a community near you. For details, please visit my Events page by clicking HERE.
REP. KEICHER PASSES LEGISLATION TO ASSIST WITH RESETTLEMENT OF UKRAINIAN REFUGEES
I am Chief Co-Sponsor of House Bill 1567, legislation that refines an existing role in the Governor's Office to help with refugees including those from Ukraine. It makes state agencies report to this role instead of being uncoordinated within each department to ensure we have an efficient process in place and, equally as important, be sure that process is one of integrity when we talk legislative ethics.
Specifically, our bill provides that the Governor's Office of New Americans shall monitor completion of plans at each State agency level, requiring each agency under the jurisdiction of the Governor to develop a New Americans Plan that incorporates effective training and resources, ensures language access and culturally appropriate services, and includes administrative practices that reach out to and reflect the needs of the immigrant refugees. Each State agency will be required to submit its New American Plan to the Governor's Office of New Americans (rather than the Governor himself) for approval, ensuring an added measure of accountability.
In closing, I hope you've found this update helpful and informative. I am honored to serve you as your State Representative. Despite our challenges and setbacks as a state, I ask you to remember Illinois can and will be an amazing place to call home. We need believe in our collective ability to get there, each doing our part as individuals to make our community a better place. I know we can, because I believe so strongly in you, my neighbors across the 70th District and like-minded folks throughout the State of Illinois.
-Jeff