About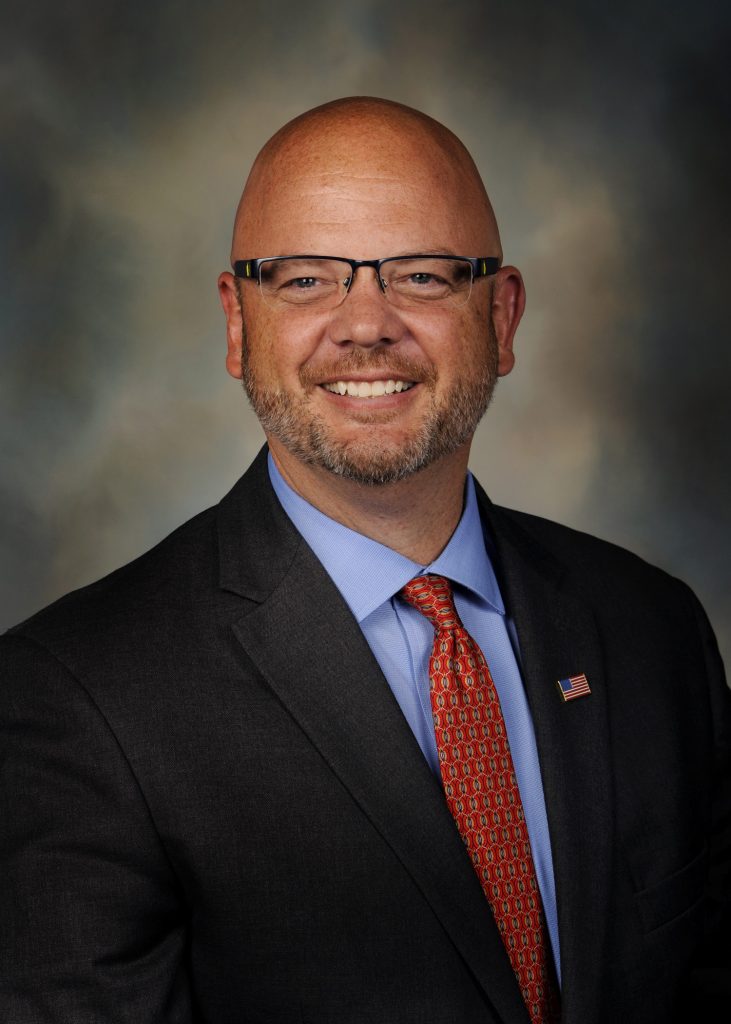 Jeff Keicher was sworn in as State Representative for Illinois' 70th District in July 2018, bringing his private sector experience and community involvement to serving his district at the State Capitol in Springfield, where he has earned a reputation as a bipartisan problem-solver.
Representative Keicher's accomplishments started to accumulate quickly and have earned respect and admiration from both Republicans and Democrats. They include passage of a new law in 2019 to broaden the availability of mammogram screening; enacting a package of economic reforms in 2019 that contributed to the creation of thousands of good-paying local jobs including DeKalb landing the new Ferrara distribution center and Facebook data center; three new laws passed in 2021 to better protect victims of sexual assault and domestic violence; passage of a bill to keep the Byron nuclear plant open, and supporting Northern Illinois University in his role as the ranking Republican Spokesperson on the House Higher Education Appropriations Committee.
The struggles Jeff witnessed his cousin fight through have inspired him to address the sexual abuse of students in school-related settings as well as those addicted to substances in their daily life. Representative Keicher served on the Make Sexual Abuse Fully Extinct (Make S.A.F.E.) Task Force from 2019-2020, which issued a report containing 21 specific recommendations to better protect students. Many of those recommendations have gone on to become law in Illinois. More recently, Representative Keicher served on the Commission on Poverty Elimination and Economic Security, which has drafted a plan to eradicate poverty in Illinois within 15 years working closely with local stakeholders and community leaders throughout the state. Being raised by a single mother waiting tables and putting himself through a degree at NIU has given Representative Keicher the insights needed to make impactful changes in how we address economic disparity and opportunity in Illinois.
In 2022, Representative Keicher played a key role in passing legislation to extend treatment services to survivors of sexual assault, improve local government efficiency and accountability to the taxpayer, protect restaurants from bad-faith delivery services, and ensure nursing home visitation rights during public health emergencies. As a leading advocate for restoring public trust in state government and rooting out corruption in Illinois, Representative Keicher was appointed to the bicameral, bipartisan Legislative Ethics Commission in January 2022 where he continues to push for meaningful ethics reform and holding lawmakers accountable.
Jeff is motivated to continue serving the citizens of the 70th District in the Illinois General Assembly. As a leader in both the public and private sector, Jeff has a strong understanding of the value of seeking first to listen and understand a problem before we start offering solutions that miss the mark. He believes strongly that the citizens of the 70th District deserve representation dedicated to bringing people from all backgrounds together to find solutions to our challenges.
Representative Keicher has extensive volunteer experience in the community and on behalf of industry groups. In addition to boards and commissions, Jeff has held executive board positions with the Sycamore Chamber of Commerce, the Sycamore Public Library, the National Association of Insurance and Financial Advisors (NAIFA) of Illinois and the Sycamore Rotary Club. He also spent many years serving on boards for the DeKalb Chapter of the American Red Cross, NAIFA Fox Valley, and the Kishwaukee YMCA.
A graduate of Northern Illinois University with over 25 years of professional experience in the insurance industry, Representative Keicher opened his own State Farm Insurance Agency in Sycamore in 2006, a successful and growing agency in DeKalb County serving the northern Illinois region.
Jeff is a proud husband and father of three children with deep roots in the community. His family history offers him life lessons unique to Illinois. Jeff's relatives first arrived in the DeKalb and Kane County area in the early 1900s and struggled for a foothold before going on to accomplish impactful contributions to the area. As a small business owner, Jeff is committed to helping improve the quality of life for local families and making Illinois an affordable destination for more people to live, work, raise a family, start a business, contribute to their community, and retire with dignity and financial security.