The call to "preserve our history" seems to come up in our lives oh-so-often these days. Nevertheless,
many of us subconsciously pass it off as a cliché without taking any real action. I, too, am not always
innocent of this, which is especially unfortunate when considering that the benefits of recording history
are very well-known. It's this line of thinking that prompted me to come up with the idea of featuring the
Hinckley Historical Society in my ongoing series of spotlight posts. After reading about the dialogue that
my office had with Bob Pritchard, who sits as the president of the organization, I hope you will have a
refreshed understanding of what goes into maintaining the history of a community and what you might be
able to do to help.
As Bob explained on the telephone call, the most pronounced part of what the Hinckley Historical Society
does is house a multitude of artifacts in their museum from the municipalities of Hinckley, Squaw Grove,
and Pierce. Most of these are donated by those generous enough to give up property that previously
belonged to their ancestors. The payoff, however, can be tremendous. To be able to share a story from the
village's past using tangible objects is invaluable to educating future generations on the culture, ideas, and
traditions of those that came before us. For example, memorabilia from the first basketball game of the
famed Harlem Globetrotters–which was played in Hinckley–is now enshrined in the museum. If you ever
want to learn about it, you are normally free to go between 10 a.m. and 12 p.m. on Saturdays or book a
private appointment at another time. Bob also mentioned that they have information there about the first
white settler in DeKalb County, who built a cabin on the edge of Hinckley; a local farm boy, who played a
significant role in the "ghost army" during WWII; the Golden Age of Bands, during which locals
witnessed concerts in the middle of U.S. Route 30; and several local inventors. At the moment, though,
the museum is temporarily closed for construction but is expected to reopen soon.
The society is in the midst of doubling the size of its museum so wait until fall to witness the chronicles
and artifacts that make this area unique and inviting. In the meantime, it is worth noting that the museum
is not the Hinckley Historical Society's only undertaking. Bob and his team also frequently update their
website which acts as an extensive database of information. There, you can read up on the history of
homes, businesses, and society happenings in their quarterly newsletter. They have also digitally archived
Hinckley's newspaper from 1878 until 2000 for easy access and has instructions on how to view cemetery
records.
Furthermore, the Hinckley Historical Society is associated with the DeKalb County History Center which
has created an easy way to visit historically and culturally significant places anywhere in DeKalb County
on your mobile device. Simply use the Out&About website on a mobile device and it will point out great
locations to visit as you drive around DeKalb County.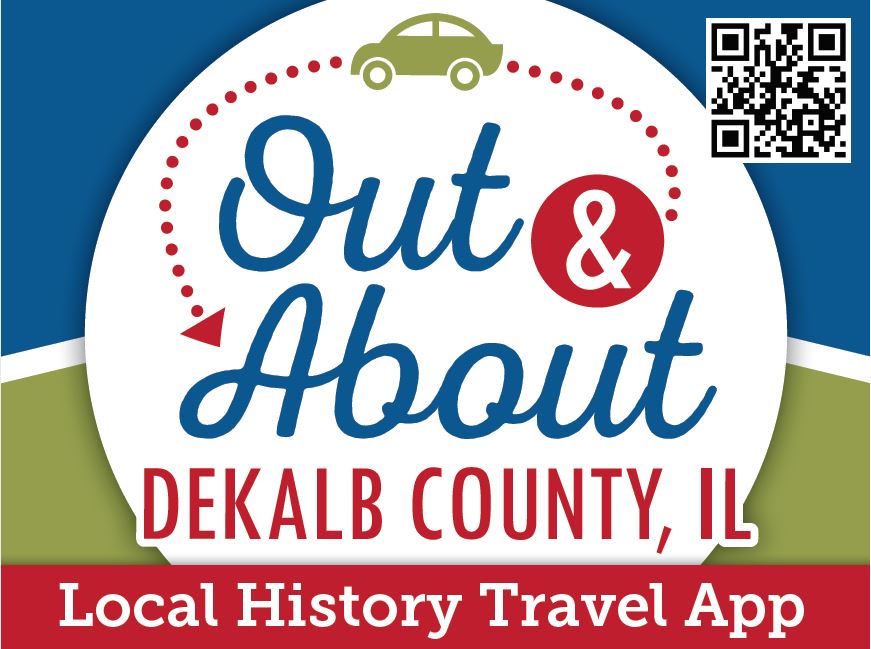 If you are interested in volunteering your time or donating to help the Hinckley Historical Society
research more stories, make local history more relevant for people today, and create exciting exhibits…I
encourage you to again see their website or send an email:
● Hinckley Historical Society Museum
● 145 E. Lincoln Ave.
Hinckley, IL 60520
● Phone: (815) 761-4058
● Email: hinckleyhistoricalsociety@gmail.com
● Website: https://hinckleyhistoricalsociety.org/
In closing, it is worth nothing that a lot of this information is about the Hinckley Historical Society and
the specific work that they do. Even so, it can be made applicable to wherever you are in Illinois' 70th
Representative District. There are more than likely institutions working towards similar goals for your
community. Consider finding out who they are and reaching out: staying informed on or getting involved
with your area's history is important no matter where you are.
Thank you very much to Bob Pritchard for taking the time to talk with my staff. I can't wait to see the
expanded museum and hear about the local history that you guys bring back to life. I am a firm believer in
preserving and understanding history so we can learn from it and better progress as a society.