State Senator Dave Syverson (R-Cherry Valley) and State Representative Jeff Keicher's (R-Sycamore) third annual Valentines for Seniors Card Drive saw record participation from community members this year. The annual drive provides Valentine's Day wishes to residents of nursing homes, rehab, and long-term care facilities throughout the 35th Senate District and 70th House District.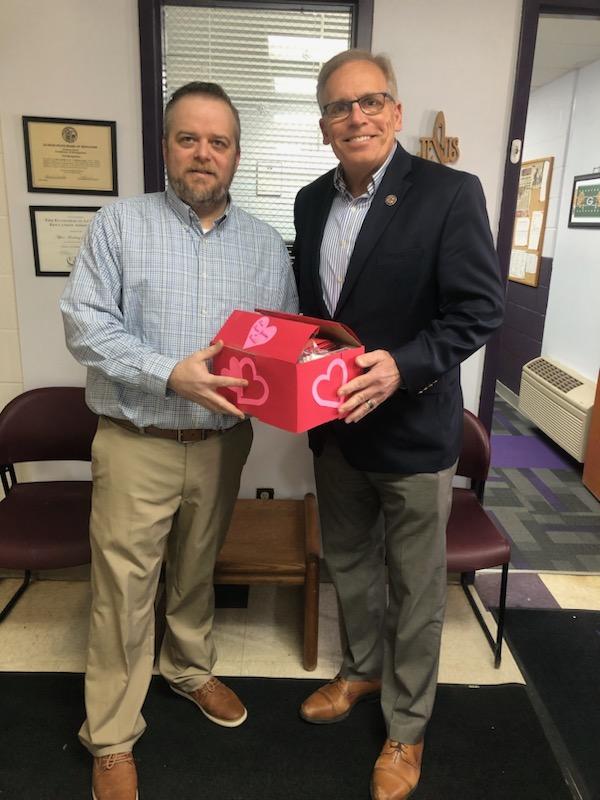 "It was a record year for participation in the program," said Sen. Syverson. "Thanks to the immense of support from the community, more than 10,000 valentines were collected. Seniors at twenty-five facilities will each receive at least two handmade cards this year. We have seen how meaningful this is for residents of long-term care facilities, and we thank all those who took part to make this heart-warming project so successful."
As Syverson noted, more than 10,000 valentines were collected from community members, churches, schools, businesses, and other groups from around the 35th Senate District and 70th House District. This year's collection doubled the 5,000 valentines collected in 2022.
"When Senator Syverson came up with this idea during COVID to show our seniors how much the community cares about them, I was amazed by the outpouring of our residents in the district," said Rep. Keicher. "This year has blown the door off the prior two years. This program is all about honoring those who came before us by sharing joy and love with them on Valentine's Day. I am truly blown away by the giving spirit of our community, and I am sincerely thankful to everyone who took the program to heart and made it our most successful year yet."
Syverson and Keicher have begun distributing the Valentine's Day cards to senior care facilities throughout the region. If you or a group you belong to would like to participate in next year's program, please register for email newsletters to stay up-to-date, Click Here.