State Representative Jeff Keicher (R-Sycamore) was recently honored by The Nature Conservancy in Illinois with their 2023 Legislative Leadership Award for his work in the Illinois House of Representatives promoting land restoration efforts. Chief among his work during the spring legislative session was the unanimous approval of House Resolution 92 to raise further awareness about the benefits of prescribed burning.
"I've been proud to support the work of The Nature Conservancy in Illinois, as well as other public and private conservation programs, and I'm honored to receive this recognition," said Keicher. "If you haven't had a chance to witness the prairie restoration happening in Lee and Ogle Counties at the Nachusa Grasslands, you owe it to yourself to take a trip out there to see the Buffalo in the fields that controlled burns have helped revitalize."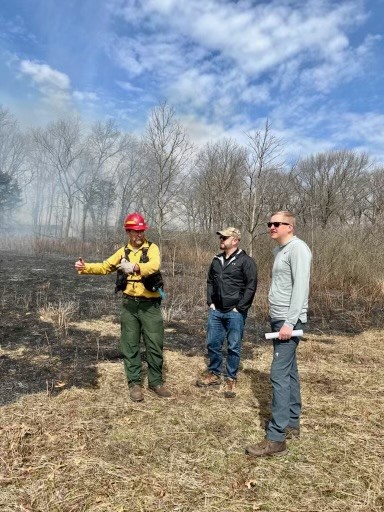 In 2007, The Illinois General Assembly passed the Illinois Prescribed Burning Act, which defined prescribed burning and its appropriate application to accomplish the intended land management objectives. Since then, Illinois has also been seeking to raise awareness about the benefits of prescribed burning through resolutions like Keicher's HR 92, which declared April of 2023 as Prescribed Burning Awareness Month in Illinois.
As Keicher mentioned, the Nachusa Grasslands restoration, which The Nature Conservancy in Illinois has helped lead, is one of the largest and most biologically diverse grasslands in Illinois.
"Partnerships are integral to raising awareness and accelerating action for the benefit of both people and nature," said Ashley Maybanks, director of government relations for The Nature Conservancy in Illinois. "Along with stewardship practices like prescribed fire that help restore the prairies Illinois is known for, partnerships with communities and leaders like Representative Keicher help to ensure the state's natural landscape and diverse wildlife can thrive for generations to come."
To learn more about prescribed burning and HR 92, click here.