Following the ruling by the Illinois Supreme Court this summer to uphold the so-called "SAFE-T" Act, including the implementation of no cash bail on September 18, four local legislators hosted area police and fire officials on August 24 for a roundtable discussion of the looming public safety changes.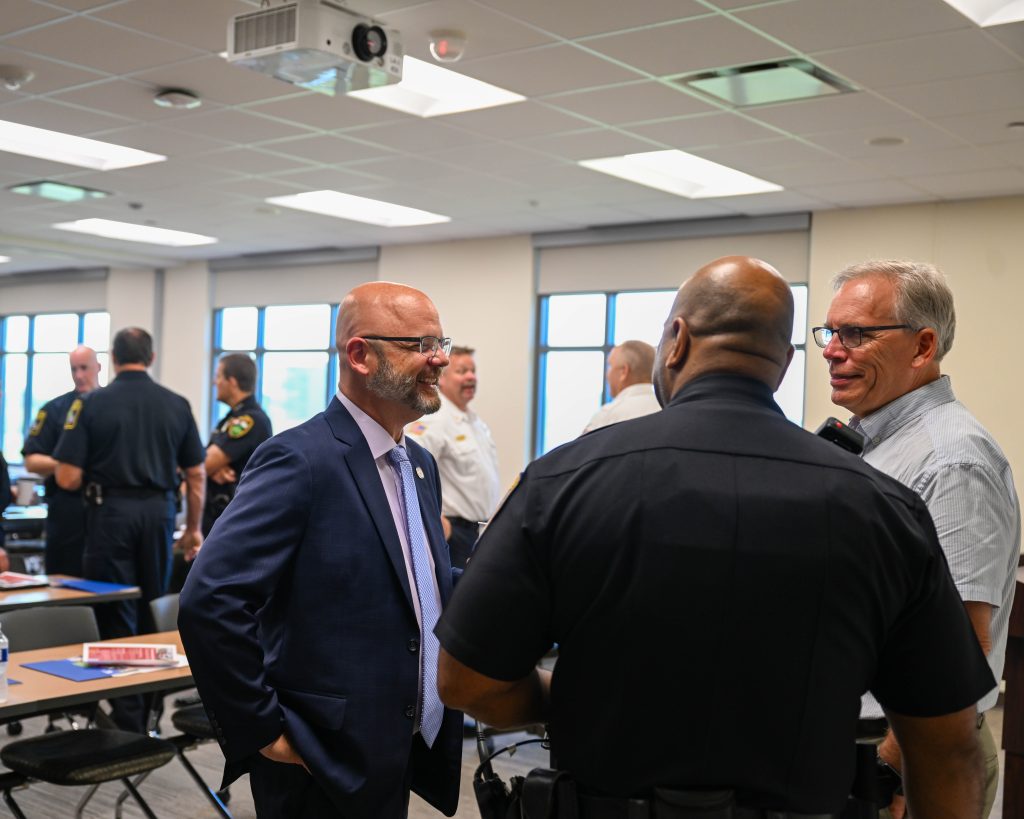 House Republican Conference Chair Jeff Keicher (R-Sycamore), State Senator Donald DeWitte (R-St. Charles), State Senator Dave Syverson (R-Cherry Valley), and State Representative Dan Ugaste (R-Geneva) partnered with the Elgin Community College Center for Emergency Services in Burlington to host the roundtable. More than fifty first responders from communities in Kane, McHenry, and DeKalb Counties participated in the discussion that featured presentations by Ron Two Bulls, Director of the Center for Emergency Services, Chief Judge Clint Hall of the 16th Judicial Circuit and Kane County State's Attorney Jamie Mosser.
"As the elimination of cash bail is set to take effect on September 18, it is more important than ever that our first responders are prepared for the ramifications this change poses to public safety," said Rep. Keicher. "I'm thankful that our police and fire personnel throughout the region have worked diligently to prepare for the challenges and unintended consequences posed by the so-called 'SAFE-T' Act, but it is obvious we cannot stop working on solutions to improve public safety and support our first responders."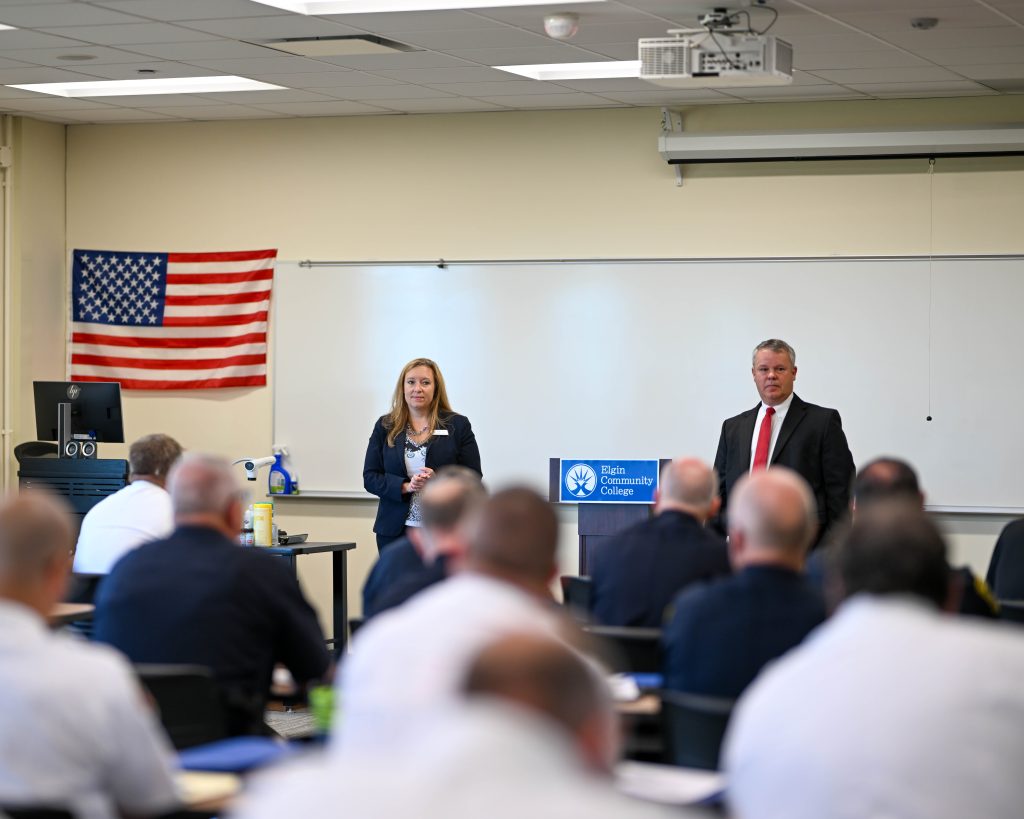 The changes set in motion by the SAFE-T Act and the elimination of cash bail have exacerbated staffing issues faced by many police and county sheriff departments, as well as increasing costs on the court system. Concerns have also been raised about how this will impact fire and EMT resources.
"It was my pleasure to help put this roundtable discussion together, and I was pleased to see such a great turnout," said Sen. DeWitte. "After hearing Kane County State's Attorney Jamie Mosser and 16th Judicial Circuit (Kane County) Chief Judge Clint Hull discuss how the SAFE-T Act and no-cash-bail will be rolled out in this region, it is clear to me that our community leaders are prepared for the upcoming September 18 deadline for implementation of these new mandates."
The group also discussed changes in detention standards for numerous offenses that will require police and the courts to meet filing deadlines that are considered by most to be unrealistic.
"State's attorneys and law enforcement personnel in our region have stated in no uncertain terms that their work – and the ultimate safety of our communities – will be threatened by many provisions of this controversial overhaul of the state's criminal justice system. I stand with our local law enforcement, and on the side of protecting our families," said Sen. Syverson. "With crime increasing across the state, eliminating cash bail just puts more criminals back on the streets. It clearly sends yet another message that there are limited consequences for committing crimes in Illinois. Lawmakers should focus more on protecting the innocent public as opposed to expanding the rights of criminals."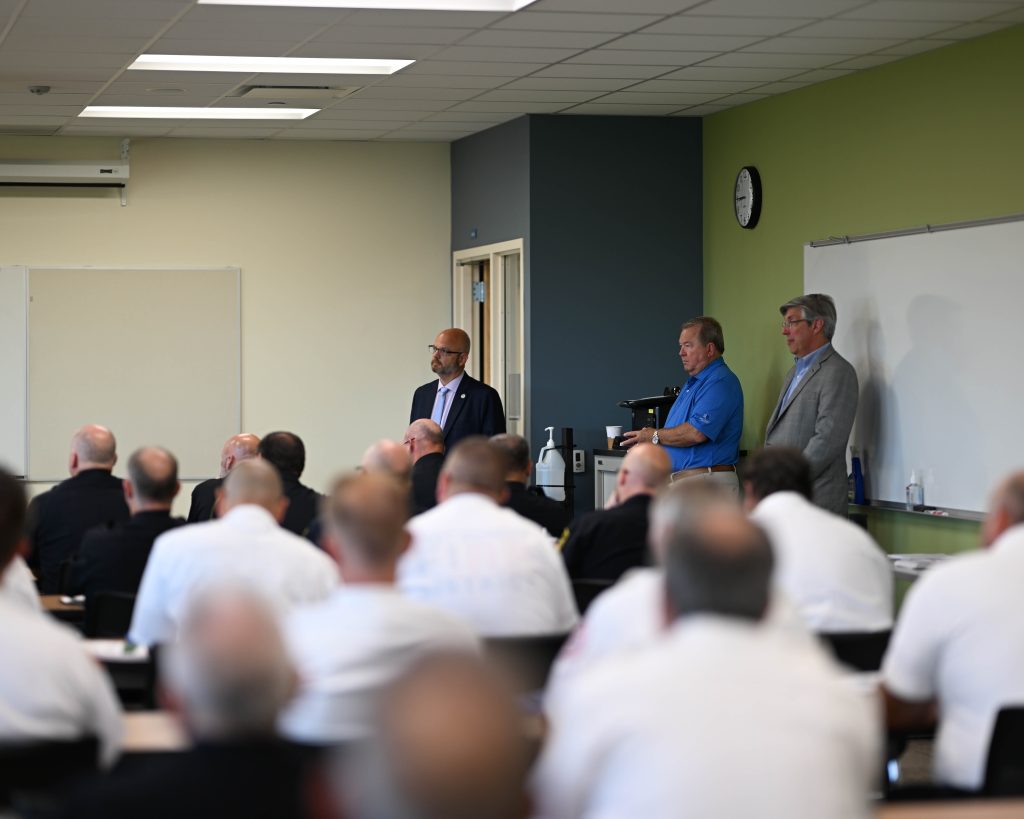 While the SAFE-T and the implementation of no cash bail took up much of the discussion, attendees also discussed overall funding and staffing challenges in the current climate.
"The far-too-lenient approach to addressing crime in the SAFE-T Act will ultimately put criminals and repeat offenders back on the street, burdening already pressured police forces in Illinois," said Rep. Ugaste. "Law enforcement officers are trying to manage the requirements of the SAFE-T Act while their communities are being shortchanged for cost increases. I was pleased to have the opportunity to speak with police officers on this issue as well as with firefighters on issues important to them and their departments."
Officers and firefighters from Batavia, Burlington, Carpentersville, Cortland, Crystal Lake, DeKalb, East and West Dundee, Elburn, Elgin, Elgin Community College, Geneva, Huntley, Illinois State Police, North Aurora, Pingree Grove, Rutland, Sleepy Hollow, South Elgin, St. Charles, Sugar Grove, Sycamore, Wayne, and from DeKalb, Kane, and McHenry Counties, and EMS from Tri-Com Central Dispatch were in attendance.